Kim Clijsters dismantled 18th-seeded Li Na 6-2, 6-4 to move only two wins from a U.S. Open title hardly anyone could have seen coming.
The mother of 18-month-old Jada pulled off another upset that didn't look liked one in the quarterfinals, punishing China's top tennis star with deep, stinging groundstrokes that were part of a game that looked about like it did when Clijsters retired two years ago.
Or maybe better.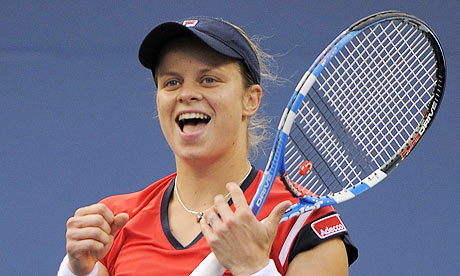 Clijsters is back at the U.S. Open for the first time since 2005, when she won the tournament, and has a winning streak of 12 matches at Flushing Meadows.Her next match will be against the winner between No. 2 Serena Williams and No. 10 Flavia Pennetta.
Clijsters has already beaten Venus Williams and two other seeded players and nothing seems like too big a stress at this point.
"I'm glad I got through it again, stayed focused on my game,'' Clijsters said. "I wanted to be aggressive and I think that's what helped winning those important points today.''
The few important points there were in this one came midway through the second set, after Clijsters had lost a break to turn a 3-1 lead into 4-4.Li responded with four unforced errors to give away the ninth game and the match was over a few minutes later.
The 26-year-old Belgian became the first unseeded player to make the U.S. Open semifinals since Elena Dementieva in 2000.She was unranked because she hadn't played enough tournaments since her comeback started last month, but she'll be in the low-50s or better when the next rankings come out on Monday.
As efficient as she has been, moving better now than she did when she was constantly battling injuries toward the end of her last stint, her run through this tournament might also be seen as a statement about the state of women's tennis.
Serena Williams is the only top-5 seed left in the event.Three of the players on the opposite side of the draw are ranked 50 or higher, joined by No. 9 Caroline Wozniacki. All are playing in their first major quarterfinals.